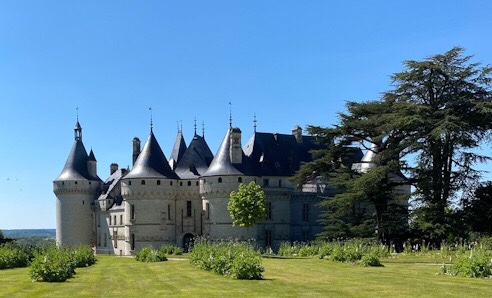 We bought a yearly pass for Château de Chaumont on 2nd January so are a little frustrated to have lost two months. However during lockdown the management did everything possible to get the garden festival ready to reopen as soon as possible. There is a one-way itinerary and on the whole visitors are respecting it and wearing masks in the more crowded areas. We didn't visit any of the exhibits, just the regular gardens which were very peaceful and unencumbered. We'll go back during the week when there are fewer people.
Still no new deaths in our area but there were 483 new deaths in France during the last 24 hours compared with 96 yesterday. Not very positive ….
Nous avons acheté des billets à l'année pour le château de Chaumont le 2 janvier ; nous sommes donc un peu frustrés d'avoir perdu deux mois mais pendant le confinement les responsables ont fait tout leur possible pour préparer l'ouverture du festival des jardins dès que possible. Il y a un itinéraire à sens unique qui dans l'ensemble est respecté par les visiteurs dont la plupart porte des masques dans les parties les plus fréquentées. Nous n'avons pas visité les jardins du festival mais plutôt ceux du parc qui étaient très paisibles et sans encombre. Nous y retournerons en semaine lorsqu'il y a moins de monde.
Le nombre de décès en Loir-et-Cher n'a pas bougé mais le nombre de nouveaux morts en France au cours des 24 dernières heures est monté à 483 contre 96 hier. Plutôt décourageant…