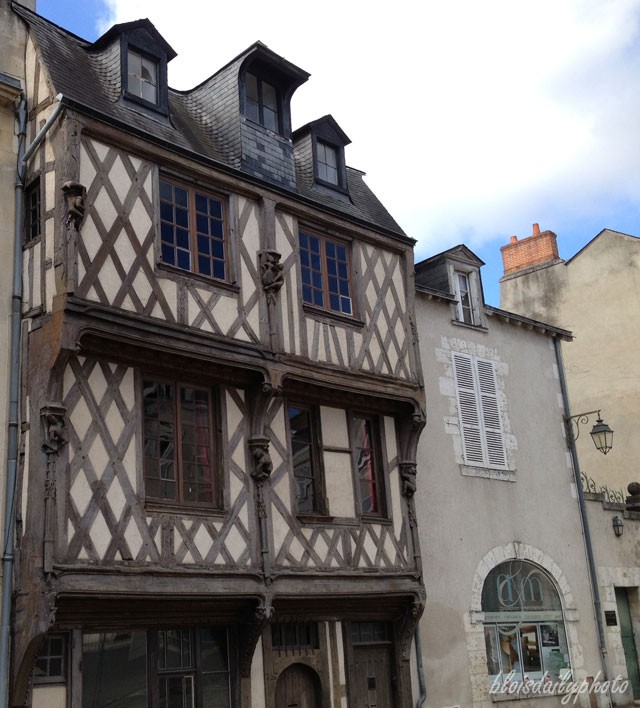 The Acrobats' House, one of the oldest in Blois, has two jettied upper storeys with brackets and corbelling carved with scenes and characters from mediaeval comic tales or fables.
Only half-timbered houses with very rich decoration can be dated. Here, the clothing of the figures on the façade is prior to 1480. This has been confirmed by dendrochonologic analysis (study of growth rings in timber) which shows that construction dates back to the 1470s, i.e. during the reign of Louis XI.
It's currently selling for 312,000 euros, agency fees included, but requires renovation.
La maison des acrobates, l'une des plus vieilles bâtisses de la ville, se distingue par deux étages en encorbellement et par des consoles et avant-soliers sculptés de scènes et de personnages tirés des fabliaux ou fables du Moyen Age.
Seules les maisons à pans de bois qui présentent un décor suffisamment fourni peuvent être datées. Ici, les vêtements des personnages qui ornent la façade sont antérieurs à 1480. La datation par dendrochronologie (études des cernes du bois) l'a confirmé en identifiant une construction remontant aux années 1470, c'est-à-dire contemporaine du règne de Louis XI.
La maison est à vendre, au prix de 312.000 euros, frais d'agence inclus, mais avec des travaux à prévoir.

Agence Loire et Charme: http://www.loireetcharme.com/blois-quartier-historique