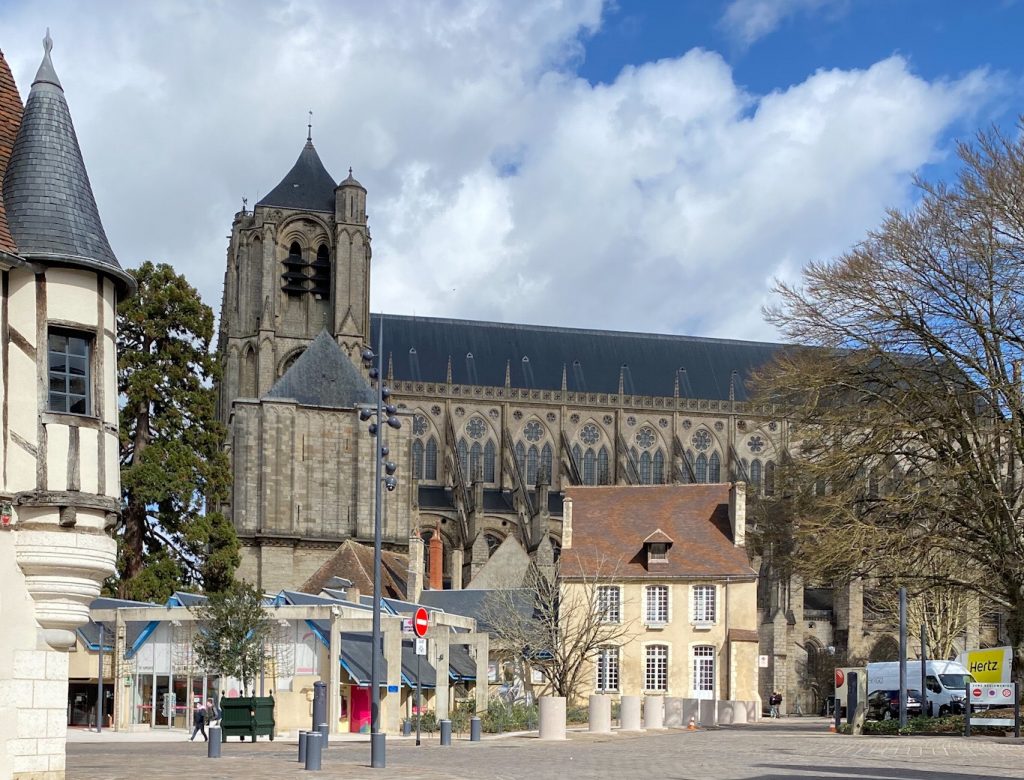 We went to Bourges today to pick up a 2019 secondhand Renault Scenic to replace our 2005 Scenic bought in 2007. It sadly died last Sunday having clocked up 188 000 km. Both are automatics, not very popular in France, but they have saved my back.
Unfortunately the stunningly beautiful UNESCO classified cathedral was closed due to the presence of a film-production crew. It isn't easy to photograph the exterior due to the unfortunate modern buildings in the foreground and lack of distance in front of the main facade.
Bourges Cathedral is dedicated to Saint Stephen. Built on top of an earlier Romanesque church from 1195 until 1230, it is largely in the High Gothic architectural style and was constructed at about the same time as Chartres Cathedral. It is particularly known for the great size and unity of its interior, the sculptural decoration of its portals, and the large collection of 13th century stained glass windows.
I drove the new car home (1 1/2 hours). Apart from all the electronics which are completely different (I couldn't get the cruise control to work but Jean Michel found the secret), it feels like the same car only slightly wider. Now we just have to wait until the restaurants open so we can go on holidays. Today we had a picnic, not the most satisfying way to celebrate buying a new car after 15 years!
Aujourd'hui nous sommes allés à Bourges chercher une Renault Scenic 2019 d'occasion pour remplacer notre Scenic 2005 achetée en 2007 qui est morte dimanche dernier avec 188 000 km au compteur. Les deux voitures sont automatiques pas très appréciées en France mais elles ont sauvé mon dos.
Malheureusement la très belle cathédrale classée UNESCO était fermées car on tournait un film. Il n'est pas facile de photographier l'extérieur à cause de la présence des constructions modernes au premier plan et le manque de recul devant la façade.
La Cathédrale de Bourges est dédiée à Saint Etienne. Construite sur une église romane antérieure de 1195 à 1230, elle est en grande partie de style architectural haut gothique et a été construite à peu près en même temps que la cathédrale de Chartres. Elle est particulièrement connue pour l'importance et l'unité de son intérieur, la décoration sculpturale de ses portails et la grande collection de vitraux du XIIIe siècle.
J'ai conduit la nouvelle voiture jusqu'à la maison (1 heure et demie). A part toute l'électronique qui est complètement différente (je n'arrivais pas à faire fonctionner le régulateur de vitesse mais Jean Michel a trouvé le secret), on a l'impression d'être dans la même voiture, juste un peu plus large. Maintenant, il ne nous reste plus qu'à attendre que les restaurants ouvrent pour pouvoir partir en vacances. Aujourd'hui, nous avons fait un pique-nique, mais ce n'était pas une manière très digne de fêter l'achat d'une nouvelle voiture après 15 ans !